Pharmacy Technician Overview
What is a Pharmacy Technician?A Pharmacy Technician is someone who assists licensed pharmacists in a wide variety of activities necessary for dispensing drugs and drug information.
Click for Pharmacy Technician Program Video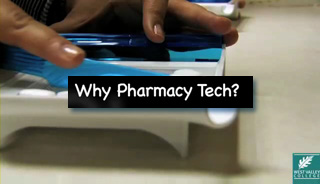 When working in a retail pharmacy setting, technicians may prepare medications, order and replenish stock, stock both prescription and over the counter (OTC) drugs, maintain computerized patient medication records, generate prescription labels, prepare insurance claim forms, and manage the cash register.
When working in a hospital setting pharmacy technicians may also repackage medications, prepare commercially unavailable medications and sterile intravenous medications, maintain nursing station and cart medications, collect quality improvement data, deliver medications to patient rooms, and operate computerized dispensing systems.
Pharmacy technicians are not limited to working in a "traditional" pharmacy setting. Technicians also work in other settings, such as home health care, nuclear medicine pharmacies, federal and state jail pharmacies, mail order pharmacies, medical insurance companies, medical computer software companies, and drug manufacturing companies.
Program Overview
This 10 month intensive program takes a very practical approach to pharmacy training, and is designed to prepare graduates for work in one of many pharmacy settings in a short period of time.
The program is excellent for recent high school graduates, college students, healthcare workers, those looking for a career change, and anyone who wants entry into the pharmacy or health care fields.
The curriculum is written by pharmacists, and classes are taught by both pharmacists and certified pharmacy technicians practicing in all areas of pharmacy.
Students will receive 400 contact hours, including class and lab instruction, tutoring and workshop sessions, and externship experiential training in a pharmacy.
The program is a collaborative between West Valley College and Mission College.
Graduates of the training program will receive a Certificate of Completion and eligibility for licensure (registration) by the California State Board of Pharmacy.